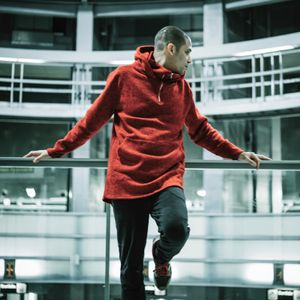 Question 1: We have always found it curious that a person like you who was in the Los Angeles scene would suddenly go to live in Barcelona. What made you come to Barcelona, and what do you think about it? Do you like the musical culture in the city? 
Answer: Haha! That is quite a typical reaction in general when people in Barcelona learn that I am from California and have chosen to live in here, but I came here once on vacation for just a couple of days and about 5 months later I arrived in Barcelona with just 3 suitcases, nowhere to live, just one contact, who I barely knew at the time and very little Spanish. My plan was just to stay for 6 months, but pretty quickly I realized I really love this place and it has just the right amount of everything.  There are some things that drive me crazy sometimes about living in Spain, but its worth it :)  I think Barcelona has one of the most vibrant and diverse music scenes in the world. As we know there are some of the biggest music festivals here whether it be electronic music festivals like Sonar, Brunch or DGTL that people come from all over the world for, or the more diverse Primavera Sound.  Also, on any given night there are usually various options of really interesting clubs to go to, but the truth is, if I'm not DJing or Promoting you are more likely to find me at the Jamboree or Harlem Jazz Clubs. One thing I would say about Barcelona and Spain in general is that it is quite a bit more Techno dominated than many other parts of Europe, and even the biggest House labels are not too well recognized here. But I do feel like that is changing due to really great work by some other promoters and I hope that my events can help contribute to developing more House Music fans here in Barcelona. 
Question 2: We know that you have a great influence on house music, but your beginnings started with Drum & Bass, what is the moment when you decided to dedicate yourself to music as a producer? 
Answer: Well yes, I first began performing as a Drum & Bass DJ & MC in 1999, but I had actually already had my first introductions into producing by 1997, and my story of making music really actually goes back to about 1992 when I was writing rap lyrics when I was just 11 years old. But it is correct that as an artist/performer my real start was with Drum & Bass which I was involved with up until about 2007. I had always been learning some production, and had always had some interest in House Music as well, but it was around 2009 when I started to DJ different styles of House and I was becoming more and more focused on music production.  When I arrived in Barcelona I wasn't really too focused on making music. This city really did inspire me to reconnect with making music and in my time here I have been more dedicated than ever to improving as an artist, especially in the last 3-4 years. 
Question 3: Nietzsche said that "a life without music would be a mistake." What is the music for you? 
Answer: The most unifying form of art on the planet because it helps us better understand ourselves and other around us.